Watch us making the cloth for your Coat
The Story of the Tweed
We have been experts in tweed manufacturing since 1841, and in 2013, we were awarded a Royal Warrant for Estate Tweeds by His Majesty King Charles III when he was HRH Prince of Wales. Estate tweeds were designed initially as camouflage for stalkers and gamekeepers working in the Scottish countryside.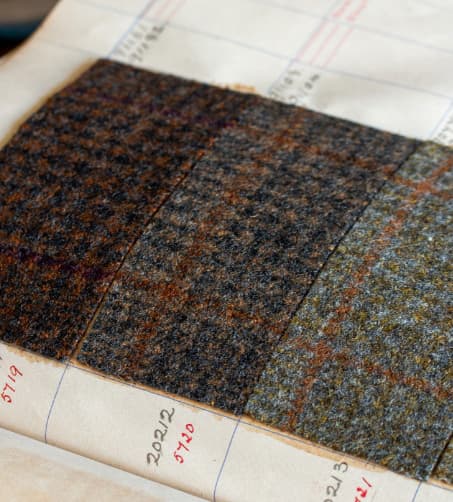 Our designers combed our archives to find a heritage pattern to mark our 225th anniversary.
We carefully selected fibres according to length and thickness to create the perfect yarn for this tweed. The fabric contains 30% Lambswool fibre from British breeds such as Kent and Romney and 70% Norwegian wool.
Specialist weaving and finishing techniques ensured the depth of colour, softness and durability.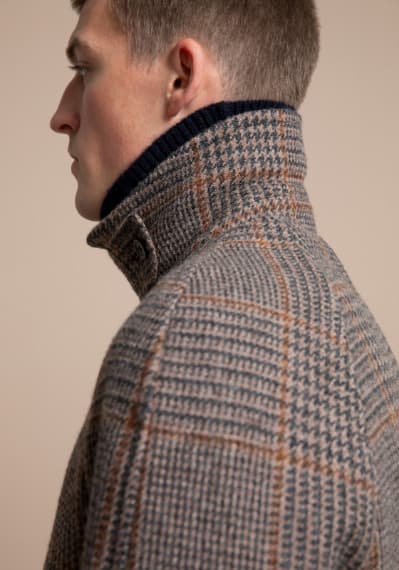 The Lining
The Balmacaan Coat is lined with TENCEL Luxe – a fibre made with natural wood pulp from sustainably managed resources.
TENCEL Luxe is smooth and luxurious with a fluid drape.
The fibre is manufactured in a closed-loop process and is compostable and biodegradable, returning to nature at the end of its life.
The Button
Our Johnstons of Elgin branded buttons are made from natural buffalo horn and will decompose naturally when they are disposed of.
The Thread
The thread used to tailor our Balmacaan Coat is sustainably sourced and manufactured in compliance with the Zero Discharge of Hazardous Chemicals (ZDHC) Restricted Substances List.
The Story behind the Balmacaan
What is a Balmacaan Coat? This loose-fitting, single-breasted overcoat was originally made with rough woollen cloth. It is thought the first Balmacaans were made in the 1800s as a more structured alternative to a 'wrap' or 'plaid', worn like a shawl.
The coat's raglan sleeve shape reduces the risk of water penetrating the shoulder.
A Balmacaan, usually made of Tweed or Gaberdine, is named after a former estate in Inverness, Scotland, around 60 miles from our Elgin weaving mill.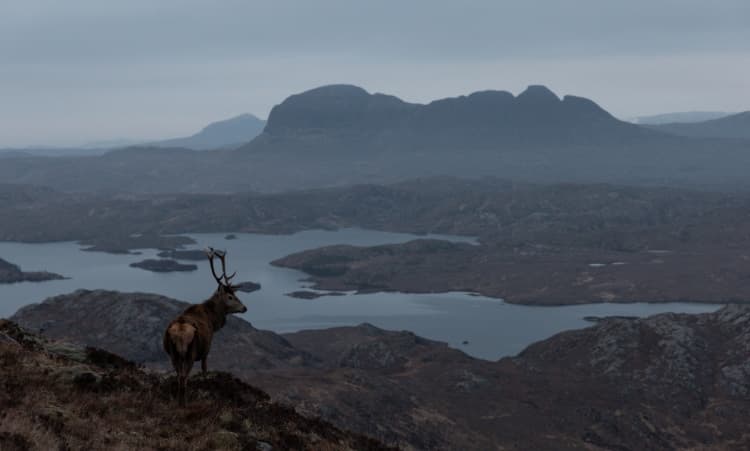 The History of the Name
Bradley Martin was an American Industrialist who rented the Balmacaan Estate in the early 1880s. He was described as a pillar of the Drumnadrochit community, and his estate provided numerous jobs. Bradley asked his tailor to design a coat that would keep him warm and dry against the wild Scottish elements, and the tailor later asked for permission to name the coat after the estate.
The Martin family were popular residents, contributing generously to many community projects, including the building of the Public Hall in 1906, which is still in regular use. The village also enjoyed entertainment, including a fireworks display, arranged by Fred Martin, Bradley's brother.
After 1920, the fortunes of the Balmacaan estate declined. It was sold piecemeal in 1946, and many local people bought their holdings at a reasonable price. The big house fell into disrepair and was finally demolished in 1972. The legacy of the name lives on in the classic coat design.
Component
Provenance
Fibre
30% British Wool
70% Norwegian Wool
Woven Fabric
Woven in Scotland
Tailoring
Tailored in England
Button
Natural Buffalo Horn product, sourced from an Italian supplier.
Lining
Tencel, wood pulp product, sourced from an Italian supplier.
© 2006-2023 James Johnston & Company of Elgin Limited.
Registered in Scotland SC022553. All Rights Reserved.